RESTAURANT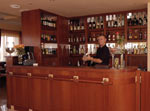 Feel free to take advantage of our wide menu. We guarantee an unforgettable taste experience at an affordable price. In the pleasant atmosphere inside our intimate and unique restaurant try the specialties of our kitchen. 




We offer :


* Grilled Chicken Salad
* French Onion Soup with Herb Crouton
* Shoulder Steak wrapped in Bacon
* home made Apple Pie

JAGA Restaurant is open everyday from 7:00 am till 11:00 pm

Abundant Prix/Fix Breakfast selections are available between 7:00 am and 11:00 am and a wide selection of dishes and drinks a la carte from 11:00 am till 10:00 pm

Excellent food and friendly, professional stuff at all times, whether it is a business meeting, birthday party or a wedding reception. Just make the reservation - we will take care of the rest.